Recycle Polyester Yarn (RePET®)

In order to protect the ecosystem and the environment, as well as to leave a beautiful Earth for future generations, LIBOLON® developed RePET®. RePET® is the new recycled polyester fiber manufactured from used PET bottles. Using environmentally-friendly recycling processes, RePET® does not depend on petroleum and thus effectively conserves natural resources and reduces environmental burden without compromising quality.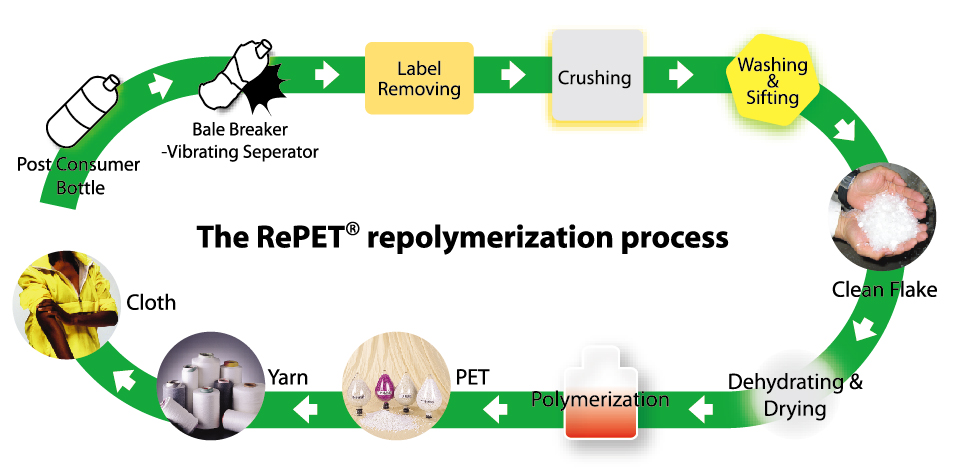 Features
Made from recycled PET bottles, does not require petrochemical raw materials.
Saves natural resources and reduces the burden on the environment.
Excellent quality and can be used for any purpose.
Product Application
Outdoor and casual wear
Sportswear
Industrial textile
Home textile
Uniforms

By using high-temperature compound technology researched and developed by LIBOLON, scraps of yarns and textiles are first sorted and then combined with waste wood dust to create RePET-W Wood Plastic Products that are 100% recyclable and eco-friendly.

Features
100% recyclable
No toxic chemical composition
Long lifetime
Woody appearance
Customizability
Waterproof / mothproof / anti-corrosive
Product Application
Panels
Flooring
Green building materials
Outdoor furniture

Product Introduction: RePET-P uses high-temperature heating and injection molding to recycle scraps from LIBOLON's factories to produce eco-friendly resin without the addition of wood powder. Replacing plastic materials with RePET-P not only reduces damage to human bodies but also contributes to environmental protection.

Features
No toxic chemicals
Product diversification
Customizability
100% Recyclable & Sustainable
Product Application
Pallets
Plastic products
Electronic product casings